FILM HOME PAGE
Films between 1919 & 1939
Films between 1940 & 1949
Films between 1950 & 1959
Films between 1960 & 1969
Films between 1970 & 1979
Films between 1980 & 1984
Films between 1985 & 1989
Films in 1990
Films in 1991
Films in 1992
Films in 1993
Films in 1994
Films in 1995
Films in 1996
Films in 1997
Films in 1998
Films in 1999
Films in 2000
Films in 2001
IMPORTANT & NOTEWORTHY FILMS
FEATURING ASIAN PACIFIC AMERICANS

Between 1980 and 1984




ISAMU NOGUCHI: PORTRAIT OF AN ARTIST


(1980)
Directed by Bruce W. Bassett
An informative documentary on the important Japanese American artist who created a distinctive style of abstract sculpture and introduced Japanese objects and materials into American art. This tape is part of a documentary series of world artists. (Home Vision)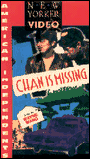 CHAN IS MISSING

(1981)

Directed by Wayne Wang
Cast: Wood Moy, Marc Hayashi
Why should anyone watch this, it's just a couple of Asian guys yammering for 80 minutes. No stars. No breathtaking scenery. It's even in black & white! But using the rudiments of filmmaking technology, ace director Wayne Wang bursts the myth of San Francisco's Chinatown as a mysterious, unknowable "foreign" territory.
This is a story of American characters dealing with dilemmas specific to the Asian community. Its insider's look at Asian American culture remains a breakthrough for Asian American fictional cinema. (New Yorker Home Video)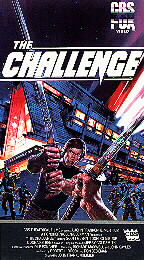 THE CHALLENGE

(1982)


Director: John Frankenheimer
Screenwriter: Richard Maxwell, John Sayles
Producer: Robert L. Rosen, Ron Beckman
Composer: Jerry Goldsmith
Fight Coordinator: Steven Segal
Distributor: Rank Film Distribution, LTD
Cast: Scott Glenn, Toshiro Mifune, Atsuo Nakamura, Donna Kei Benz, Kezunaga Tsuji, Kanata Uyeno, Eriko Sugita, Miiko Taka, Sab Shimono, Shogo Shimada, Minoru Sanada, Hisashi Osaka, Yuko Okamoto, Katsutoshi Nakayama, Kiyoaki Nagai, Sanaye Nakahara, Seiji Miyaguchi, Pat McNamara, Taw Matsuda, Clyde Kusatsu, Kusuo Kita, Shigehiro Kino, Akio Kameda, Calvin Jung, Yoshio Inaba, Masatoshi Ishikawa, Masao Hisanori, Muneshisa Fujita, Kenta Fukasaku, Naoto Fujita, Toshio Chiba, Henry Celis, Pamela Bowman, Roy Andrews, Ryuji Yamashita, Clyde Kusatsu
John Frankenheimer draws on the screenwriting talents of John Sayles in a martial arts thriller starring Scott Glenn as American boxer Rick Murphy.
PLOT: Within this John Frankenheimer martial art/thriller - in Kyoto (35 years earlier), the elderly Takeshi hands down two sacred samurai swords, or katanas, to his oldest son, but they are stolen by his other son who has his father killed and subsequently loses one of the swords during World War II.
Thirty-five years later the sword is found in Los Angeles, and Rick, a burned-out boxer, is hired to go to Japan to deliver the sword to Yoshida, a highly revered master samurai. But he's kidnapped in Osaka by Hideo's henchmen; Hideo has now become an evil and immensely wealthy businessman. After Toshio (Sab Shimono), Yoshida's son, is murdered by Hideo's goons, Yoshida manages to free Rick from his brother's compound.
Despite the boxer's crude arrogance and contempt for Asian mores, he agrees to submit to martial arts instruction from Yoshida. As his training progresses, he's filled with a sense of self-respect long absent from his life, and the new allies look toward the final battle with Hideo.
Sayles adds depth to the martial arts genre, exploring themes of honor, the corruption of wealth, and the end of the samurai tradition. The director keeps things moving along briskly, with a solid Glenn, a typically magnificent Mifune, and martial arts choreography by Steven Seagal. (Rotten Tomatoes)
What is especially noteworthy about this film is its portrayal of strong Asian/Asian American males that was definitely going against stereotype.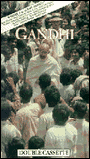 GANDHI

(1982)

Directed by Richard Attenborough
Cast: Ben Kingsley, Candice Bergen, Edward Fox, John Gielgud, Trevor Howard, John Mills, Martin Sheen, Ian Charleson, Athol Fugard, GŁnther Maria Halmer, Saeed Jaffrey, Geraldine James, Alyque Padamsee, Amrish Puri, Roshan Seth, Rohini Hattangadi, Ian Bannen, Richard Griffiths, Nigel Hawthorne, Bernard Hepton, Om Puri, Harsh Nayyar, Vijay Kashyap, Neena Gupta, Shane Rimmer, Peter Harlowe, Winston Ntshona, Alok Nath, Norman Chancer, Raj Chaturvedi, Anthony Sagger, David Gant, Daniel Day-Lewis, Avis Bunnage, Caroline Hutchinson, Dina Nath, John Savident, John Patrick, Michael Godley, Christopher Good, David Markham, Jalal Agha, Bernard Hill, Graham Seed, Gerald Sim, Sanjeev Puri, Vijay Crishna, Geoffrey Chater, Monica Gupta, John Ratzenberger, Charu Bala Chokshi
While a bit too self-consciously noble, this highly honored epic remains an inspiring parable on the power of peace over violence. Besides, British star Ben Kingsley (formerly Krishna Bhanji) is, to date, only ethnic Asian with a Best Actor Oscar (note: the Haing Ngor of the film "The Killing Fields" did win the Best Supporting Actor Award. And there's something slightly subversive about the sight of such a grand, opulent spectacle being harnessed to tell the story of a modest, ascetic man in a sackcloth.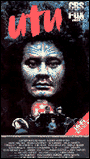 UTU

(1983)
Directed by Geoff Murphy
Cast: Anzac Wallace, Bruno Lawrence, Wi Kuki Kaa, Kelly Johnson, Tim Elliot, Merata Mita, Tania Bristowe, Martyn Sanderson, John Bach, Ilona Rodgers, Geoff Murphy, Tom Poata, Sean Duffy, Ian Watkin, Stephen Tozer, Peter Rowell
In 1870, Te Wheke (Wallace), a Maori corporal in the colonial New Zealand Army, snaps after the army's massacre of his village and vows "utu" (vengeance) against the British colonists.
This story of Te Wheke's guerilla war (taking more than a few cues from the Hollywood Western) is superbly crafted and stands as perhaps the most highly praised New Zealand film of all time. But even though Te Wheke is the film's central figure, the story seems more concerned with the colonials' hunt for him. This blunts our understanding of both Te Wheke as a character and the workings of colonialism. (Fox Video)

(1984)
Directed by John G. Alvidsen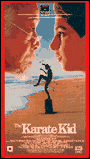 Cast: Ralph Macchio, Pat Morita, Elisabeth Shue, Martin Kove, Randee Heller, William Zabka, Ron Thomas, Rob Garrison, Chad McQueen, Tony O'Dell, Israel Juarbe, William H. Bassett, Larry B. Scott, Juli Fields, Dana Andersen, Frank Burt Avalon, Jeff Fishman, Ken Daly, Tom Fridley, Pat Johnson, Bruce Malmuth, Darryl Vidal, Frances Bay, Christopher Kriesa, Bernard Kuby, Joan Lemmo, Helen Siff, Larry Drake, David Abbott, Holly Basler, Brian Davis, David De Lange, Erik Felix, Peter Jason, Todd Lookinland, Clarence McGee Jr., William Norren, Sam Scarber, Scott Strader
Pat Morita's character, Sensei Miyagi, is basically a variation of the stereotypical Asian "wise man." However, his moving monologue about the Japanese American internment earned a well-deserved Oscar nomination for Morita as Best Supporting Actor in this very popular movie from the director of "Rocky" (1976). Morita returned to the role of Miyagi in three sequels. The role also enabled Morita to play the title character in the 1987-88 ABC police series "Ohara." (Columbia/TriStar Home Video)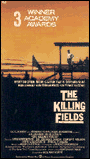 (1984)
Directed by Roland Joff&eacute
Cast: Sam Waterston, Haing S. Ngor, John Malkovich, Julian Sands, Craig T. Nelson, Spalding Gray, Bill Paterson, Athol Fugard, Graham Kennedy, Katherine Krapum Chey, Oliver Pierpaoli, Edward Entero Chey, Tom Bird, Monirak Sisowath, Lambool Dtangpaibool, Ira Wheeler, David Henry, Patrick Malahide, Nell Campbell, Joan Harris, Joanna Merlin, Jay Barney, Mark Long, Sayo Imaba, Mow Leng, Chinsaure Sar, Hout Ming Tran, Thach Suon, Neevy Pal
This highly acclaimed film tells the true story of reporters Sydney Schanberg (Waterston) and Dith Pran (Ngor), set against the bombing of Cambodia and Pol Pot's death camps.
For his portrayal of a man who narrowly escapes Cambodia's harrowing holocaust, Ngor won an Oscar for Best Supporting Actor. However, some will argue that Ngor's role is the film's true lead character.
site design by Asian American Artistry
for any questions regarding the content, please contact Asian American Artistry
Copyright © 1996-2003 - Asian American Artistry - All Rights Reserved.